Client Highlights:
Added 30k+ Pop. (230k+ total)
Central CAD, Localized Mobile and Incident Alerting
Integration with RMS, NG911 Compliant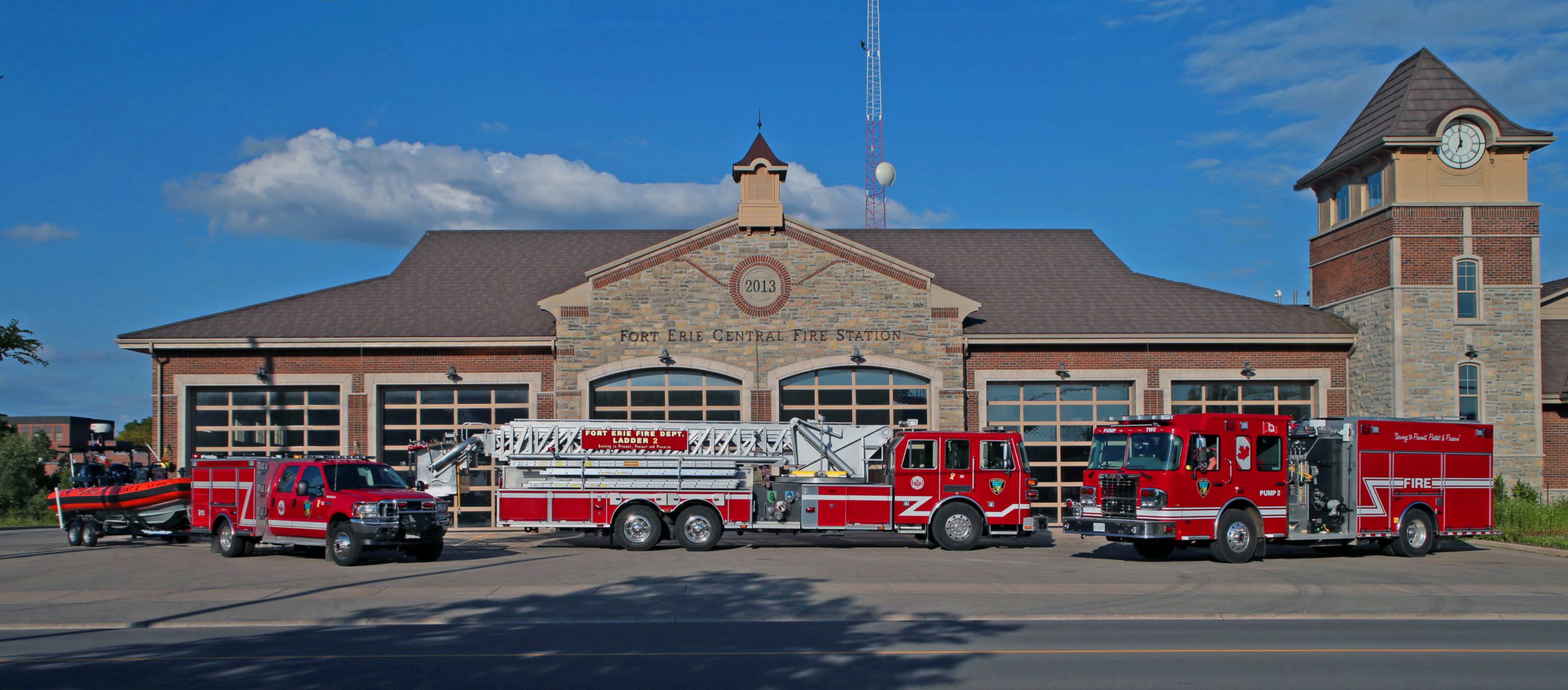 Tillsonburg Fire & Rescue has grown its Symposium-powered central dispatch yet again, and is now providing full-service incident management for the Town of Fort Erie.
Situated at the point where the Niagara River enters Lake Erie just across the river from Buffalo, Fort Erie's status as a regional beach destination results in a significant seasonal boost, with the year-round population of just under 31,000 swelling to 45,000-plus in the Summer months.
Fort Erie Fire Department's force of over 100 volunteer firefighters backed by 8 full-time command staff protect the town and surrounding area from 5 stations, with a total coverage area of about 100 square miles.
Centralized Fire-and-EMS-Centric Dispatch for Departments of any Size
Like many Symposium clients, Tillsonburg Fire and Rescue has leveraged the advanced dispatching, incident alerting and other emergency response technologies that we provide them to deliver paradigm-leading Fire-and-EMS-specific dispatch and incident management services to other departments.
This creates economies of scale, efficiency and effectiveness, giving other departments the benefit of highly-trained dispatchers and ground-breaking technology. It also ensures that Fire and EMS providers are taken care of "inter-service", by those that know and understand their unique and specific operational needs.
Department-Specific Customization, Localized Mobile Data
And with Symposium, departments get the best of both worlds – the advantages of centralized dispatch, but tailored to local needs and realities. Response rules, GIS, personnel, and other data are all customized for each agency, meaning that each one gets dispatch and incident management based on their requirements and realities while still getting the benefits and savings of a centralized system.
But at the same time, they also get new and powerful capabilities deployed locally – in the stations, in the trucks, and even in the pockets of the firefighters and command staff. Fort Erie for its part, is using Sinirji MDT's in department apparatus to provide incident alerting and real-time two-way updating.
Real-Time Situational Awareness for the Whole Response Chain
As soon as a call comes into the CAD, the necessary info is instantly available on Fort Erie MDT's, ongoing and in real time. Users can see the location and call type, view and add event notes, update their response status, and see the location of other responding personnel – all for the duration of their response, and as the situation develops and changes.
This capability is especially useful for volunteer and combination departments, wherein staff are responding first to the stations, or traveling directly to the scene in personnel vehicles. In all cases, the result is instant real-time info sharing that delivers unprecedented situational awareness and helps ensure a faster, safer, and more effective response.
Integrations with Third-Party Systems at all Levels
As well, the CAD is integrated with other local third-party systems such as RMS. This makes it possible for staff to access pre-fire plans, hazmat, contacts and other important info on both CAD and mobile during a response, as well as having incident info auto-populated back once the call is closed to simplify reporting and compliance.
Similarly, Fort Erie Also now benefits from the Symposium CAD's first-of-kind integration with the Ontario Ministry of Health's EMS CAD, which facilitates a much more efficient joint response between Fire and EMS.
The Best of Both Worlds
This combination of advantages – proven and highly-professional Fire/EMS-centric call-taking and map-based dispatching, customization for local needs and realities, local deployment of powerful incident alerting and management capabilities, and integration with a host of third-party systems at all levels – is made available at a price point that puts it within the budget of departments of all sizes. And, as has been demonstrated time and again, Symposium support is second-to-none. And upgrades in technology and functionality are part of our all-inclusive support contracts, meaning that the systems stay on the cutting edge of capability.
The Symposium advantage
Fort Erie and hundreds of similar departments throughout North America are now – thanks to these advantages – backed up by a level of dispatch and response technology on par with those available to the largest cities.
We at Symposium are delighted to welcome yet another Fire service, and look forward to providing the responders and citizens of Fort Erie with the very best emergency response technology and support for many many years to come.
For more info on how we can help your department respond faster safer and more effectively, please feel free contact us at info@symposium911.com.