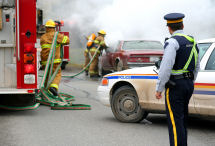 Symposium Technologies is a leader in helping public safety agencies accomplish their missions with greater safety and effectiveness. We understand the realities and operational challenges you face, and have the technology, experience, and expertise to help you achieve your goals. With Symposium and the Horizon EME, you`ll have the best tools, backed up by the most capable and responsive company. We`ll help you do what you do best, even better.
Client Quote
"Symposium had a first-rate technical solution, lots of experience with multi-agency situations, and an excellent reputation for implementation and service. They worked with our team, got the right data, tailored everything to our specific needs, and then trained the dispatchers until everyone was fully comfortable. Staff are thrilled with the new capabilities and how straightforward everything is – the whole experience has been tremendously positive."
– Richard Hayes, Deputy Chief, Tillsonburg Fire & Rescue
Designed for the Realities of Public Safety
Dependable
The Horizon EME delivers rock-solid performance in even the busiest and most demanding dispatch operations
Fully Configurable
The Horizon EME can be customized to the unique needs and work flows of each department, providing the best fit to your needs and simplifying the learning curve for your personnel.
Seamless Interoperability
The Horizon EME supports multiple agencies and jurisdictions in one system, providing individualized rules and data while maintaining separate chains of command and control over who sees what, when.
For Departments of All Sizes
Whether you`re responsible for a single small department or a large regional dispatch operation, the Horizon EME can scale effortlessly, accommodating any call volume or number of workstations.