Project Highlights:
Serving City of Guelph and
All of Wellington County

Real-time Integration
with FIREHOUSE ® RMS
and FMC Alarm Monitoring

Yet Another Project
Delivered On Time and
On Budget

A City Which Combines the Best of Both Worlds
Nestled in the verdant farm country of Southwestern Ontario at the confluence of two major rivers, the city of Guelph successfully balances economic prosperity and quality of life.  On one hand it's a major manufacturing hub and one of the fastest growing cities in Canada; on the other it's a picture-perfect community that's consistently rated as one of the country's best places to live.
Guelph Fire Department has in its own way achieved a similarly positive balance – combining a strong tradition of professionalism and accomplishment with a forward-thinking outlook that's always exploring new and innovative ways to better protect the lives and property of the people they serve.
Now, thanks to Symposium Technologies, Guelph Fire has a new tool in their arsenal – a fully integrated map-based CAD system that provides dispatchers and responding personnel with the most up-to-date and accurate response capability available.
Successfully Transitioning to a New CAD Provider
Changing dispatch providers wasn't a project that Guelph undertook lightly. Instead, the department took a very systematic approach to evaluating their options, and narrowed down their focus to four key factors – customizability, integration, future expandability, and reputation.  Ultimately it was Symposium's outstanding track record in each of these areas that resulted in us being awarded the contract.
Customizable to the Needs of Each Individual Department
Department management decided that having a solution that would adapt readily to the specific operational needs of Guelph and the surrounding communities was a crucial consideration. Because Symposium Technologies' Horizon EME CAD was built from the ground up to deliver multi-agency customizability, we were able to provide Guelph Fire and the departments of Wellington County with a dispatch solution that mirrors the way they respond.
Integration with Other Essential Systems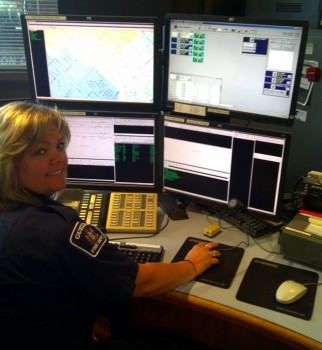 Another factor they considered essential in a CAD was the ability to integrate with other third-party software and hardware systems (such as Guelph's FIREHOUSE RMS and FMC Alarm Monitoring System). Because Symposium's Horizon EME is built using open, industry-standard principles, it provides full integration with the widest range of outside applications. As a result the new Guelph CAD seamlessly integrates with not just FIREHOUSE and FMC, but Phase II e911, trip tickets, and other services as well.
Bob Millson, Chief Training Officer and CAD Project Manager for Guelph Fire, was especially impressed with the Firehouse integration:
"One of our initial requirements for a CAD system was the ability of the system to work efficiently with our Firehouse records management system. Symposium effectively achieves this function without the operator actually seeing any indication of the RMS being accessed. It is like the CAD and RMS were one system! We look forward to better taking advantage of this seamless system integration when we move ahead with mobile data terminals in our vehicles in the very near future."
Tomorrow's Technology, Today
On that note, Guelph also wanted a system that was highly extensible in terms of future technologies, upgrades, and capabilities. This was especially true in the area of mobile data, something the department sees as key to their strategy for delivering even more effective response. Symposium has long been an industry leader in delivering ongoing upgrades and improvements, as well as in developing innovative mobile data solutions. Our proven EM Mobile system delivers in-vehicle real-time access to all incident, mapping, premise and GPS-based info via seamless integration with CAD, RMS, alarm monitoring, and other systems, and has a solid reputation of helping departments like Guelph Fire respond faster, safer, and more effectively.
Service and Reputation Key
Department management at Guelph also understood that while systems may look good on paper, this alone isn't a basis for judging real-world performance. Symposium has an established track record of bringing projects in on time and on budget, as well as an industry-leading reputation for follow-up service and support. And with other Symposium clients located throughout the region, it was easy for Guelph's decision makers to visit other nearby departments and verify for themselves the level of performance Symposium delivers.
"Thanks to excellent support from our IT department and the on-site presence of competent Symposium personnel the transition was flawless! The user support systems appear to support quick problem resolution. Overall the Symposium experience has been excellent!"
– Bob Millson, Chief Training Officer and CAD Project Manager, Guelph Fire Department
 Another Satisfied Client, Another Successful Implementation
Guelph enjoyed a straightforward and smooth implementation, something which has become a hallmark of Symposium projects. And, as with all Symposium installations, a great deal of time and effort was put into ensuring the final system met the department's needs, expectations, and operational requirements. Going forward, we look forward to working with Guelph to ensure they derive the very best benefit from their new dispatching solution, both now and in the future.
For more information, or for those interested in seeing the system in action, please contact Symposium by emailing us at info@symposiumtechnologies.com.