Project Highlights:
CAD and EMLive Web-based Incident Management System

Full two-way integration between CAD, EM Live, and FIREHOUSE® RMS
Fully-Customized for the needs of the Client

Symposium Continues To Make Inroads In New Markets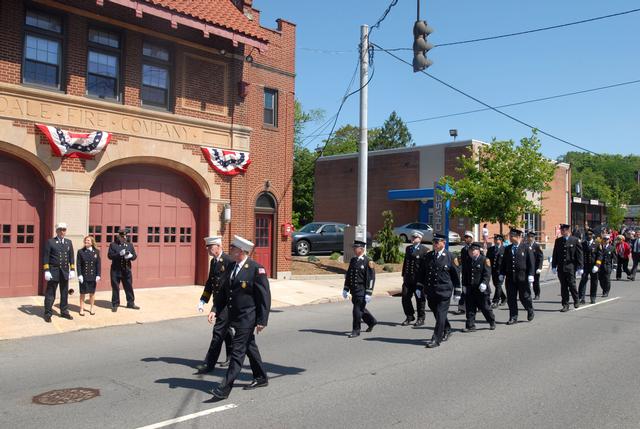 Symposium is proud to announce that we've been chosen by Hartsdale Fire Department to deliver a new CAD and Web-based Event Monitoring system, including full two-way integration with the department's existing FIREHOUSE® RMS.
Over A Century of Service
Hartsdale is located near the Hudson River in New York's Westchester County just 20 miles north of New York City, and is bordered by Scarsdale and White Plains.  An historic town with connections to the revolutionary war, Hartsdale today is a thriving and prosperous community, served by a combination fire department with a roster of 37 career and 17 volunteer members. Hartsdale Fire has a well-deserved reputation as a forward-looking and innovative department with a strong tradition of service.  Now, in the 21st century, Hartsdale FD will be using the latest technologies to deliver an even higher level of safety and protection to the town and surrounding communities.
Hartsdale's Challenge – A System That Could Cover All Their Needs
Hartsdale Fire had long been considering an upgrade to their dispatch technology, but like many similar departments, had been frustrated by how most of the current systems were designed primarily for Police.  Furthermore, even fewer systems integrated the functionality required to efficiently meet the needs of combination departments, which make up over a quarter of US fire services.
"We were getting resigned to the idea that getting all the needs covered was a no-go", said Hartsdale Fire Chief Ed Rush.   "But after learning about what Symposium was doing, we were glad to reconsider.  They offer exactly what departments like ours need."
Word About Symposium Travels Through The Grapevine
Having learnt about Symposium through industry contacts, Hartsdale staff liked what they saw – a system built from the ground up for Fire & EMS, featuring a full host of functionalities readily applicable to the needs of combination departments, and with a proven integration to their FIREHOUSE® records management system.  As the Chief puts it:
"We were hearing good things.  We talked to others that were using it at different departments, and ticked off the boxes – functions, integration, affordability, service.  We asked them to come in and show us a demo, and they responded with a system fully-customized to our situation.  We were pretty impressed."
Live Incident Data And Alerts, Sent Directly To Personnel
According to Chief Rush, one feature that Hartsdale is especially excited about is the EM Live web-based Incident Monitoring system.  "It's available anywhere, and lets our personnel access map-based incident data pushed straight from the CAD and FIREHOUSE RMS.  They get an alert when an incident happens, and see the location, type, and other details, all from their phones, all in real time. For combination and volunteer departments, this is a real game changer."
Continuing Our Growth In New York, New England, And Beyond
We at Symposium are very pleased to be putting this technology at the service of Hartsdale.  According to company President Robert Day, "More and more combination and volunteer departments are demanding the kinds of tools they see police and career fire departments using, but very few companies have the skills, knowledge and focus to deliver them to this market.  Symposium's success in Hartsdale is another confirmation that we're delivering what public safety professionals want and need."
To find out more about how Symposium can help your department respond faster, safer and more effectively, please feel free to contact us at info@symposiumtechnologies.com.