Client Highlights:
22k Population, 4.5k+ Calls per Year
CAD, Mobile and Incident Alerting
Integration with RMS, NG911 Compliant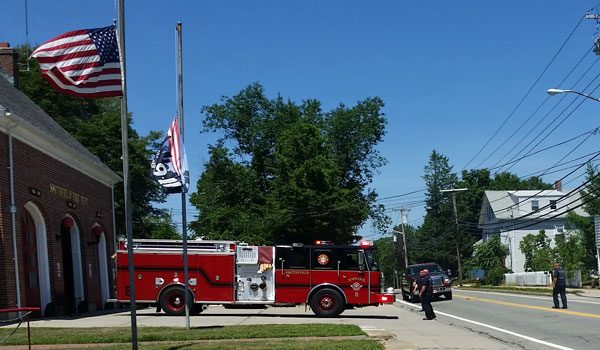 Symposium continues to expand our footprint in the northeast with another CAD and mobile data contract award in Rhode Island – this time with the Smithfield Fire Department.
First settled in 1660, Smithfield is a prosperous town of over 22,000 located just outside Providence. With a proud industrial history, modern Smithfield's biggest employer in the 21st century is Fidelity Investments. Smithfield is also home to Bryant University, a prestigious private institution with programs in business, arts and sciences.
Combination Department will Receive Major Upgrade in Dispatching and Incident Management
Smithfield Fire Department is a combination department providing both Fire protection and EMS service, and averaging just over 4,500 runs a year. Going forward, their new Symposium Horizon EME CAD and Sinirji Mobile Data and Alerting systems will help Smithfield FD's full-time and volunteer personnel respond faster, safer, and even more effectively via a suite of advanced dispatch, alerting, and incident management tools.
Customized Map-Based CAD with Full Two-Way Integration of Real-Time Incident Alerting and Mobile Data
Like all Symposium installations Smithfield's CAD is being specifically configured to the department's needs, incorporating their GIS, response rules and other area and department-specific data. On top of that, all responders – whether full-time or volunteer – will have access to instant alerting about new and ongoing incidents directly on their mobile devices via Sinirji, and can securely update their response status, add incident notes, and access additional event-related info as the situation progresses.
Furthermore, the location of all personnel who mark themselves as responding will be visible to both dispatch and each other during the duration of the incident, making it easy to see who's where and how far away in real time. This is especially useful for combination and volunteer departments, wherein many responders arrive at the scene either in their own vehicles or to the stations first before manning the trucks.
Diverse, Industry-Leading, Feature-Rich Capabilities
Another feature especially useful in terms of departments like Smithfield that utilize volunteers is Sinirji's built-in dynamic shift scheduler. Personnel can mark themselves available or off duty from their phones, either on the fly or via calendar-based time and date. This lets command staff know at all times how many personnel are available for response, and lets them more easily address any potential shortfalls in staffing before they become an issue.
Better Response, Today AND Tomorrow
Like all Symposium clients, Smithfield will receive ongoing upgrades and enhancements as part of their standard support, ensuring that their new systems will keep them at the forefront of incident response technology far into the future.  For our part we're greatly pleased to have been chosen by Smithfield, and to be providing the department with tools that play an integral role in contributing to the long-term safety of their personnel and the people they serve.
For more info on how we can help your department respond faster safer and more effectively, please feel free contact us at info@symposium911.com.