Project Highlights:
Fully Customized Computer Aided Dispatch

Integration with FIREHOUSE and ImageTrend RMS
Full Mobile Data and Web-Based Incident Management Systems
Cutting-Edge Technology for a Historic City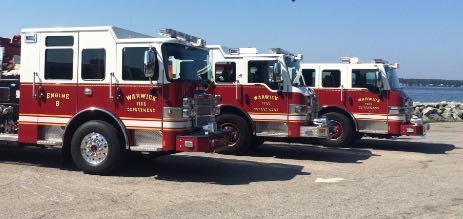 Symposium Technologies is delighted to announce another new project – an integrated CAD, Mobile Data and Web-based Incident Monitoring installation for the Warwick Fire Department. Located in Kent County just a few miles south of Providence, Warwick boasts a settlement history dating back to 1642, which today has grown into a diverse city with a population of over 80,000.
The Warwick fire department operates out of nine stations, providing round-the-clock protection fire and EMS protection, with a call volume in excess of 13,000 calls per year to Warwick and the surrounding area.
Having identified a dispatch upgrade as a priority, department leaders evaluated their options based on a number of forward-thinking criteria.
Choosing the Right System
According to Warwick's Deputy Chief of EMS Jason Umbenhauer, "We evaluated systems based on how they reflected local realities, and how they were able to translate new advances in technology into features that would enhance response. We also wanted a company that specialized in Fire and EMS, because our requirements are very different from Police. Another important consideration was reputation– how well they've been able to implement systems, and the type of support they provide."
Full Integration, Full Awareness
The Warwick installation will include Symposium's Computer Aided Dispatch, in-vehicle EM Mobile mobile data and integration with the department's FIREHOUSE and ImageTrend RMS systems. The installation also includes the company's new EM LIVE web-based incident monitoring system, which allows responding personnel full real-time map-based access to critical incident information, directly from their mobile devices.
With these new systems, Warwick FD personnel will have the benefit of cutting-edge technology that provides an integrated real-time picture of emergencies, instantly delivering vital data to where it's most needed – as we at Symposium like to say, "putting the right info in the right hands, at the right time".
From the moment a 911 call comes in, dispatchers will be able to instantly identify the location, access all relevant pre-plan info, and dispatch the most appropriate resources. Responding personnel will have access to up-to-date call information, including dispatcher notes, the GPS location of responding vehicles, and the location and status of nearby hydrants and locations of interest. Individual responders will also be able to securely access this information via their mobile phones and tablets. All systems will be integrated and will include e-911 info, with the option to integrate remote alarm sensing, oblique aerial mapping, call taker expert systems, and a host of other third-party technologies, all to the end of providing seamless, real-time decision support.
Strong Relationships and Excellent Support fuelling Expansion
"We're delighted to have been chose by Warwick for this project", said Symposium president Robert Day. "One of the big drivers for our ongoing expansion in the Northeast is the strong relationships we've forged with local departments that allows prospective clients to get a real hands-on sense of how our work has helped departments like theirs."
To find out more about Warwick's new system or about how hundreds of similar departments are responding faster, safer and more effectively with Symposium, please contact us at info@symposiumtechnologies.com.