Client Highlights:
34k Population, 6.7k+ Calls, 4 Separate Fire Districts
CAD, Mobile and Incident Alerting
Integration with FIREHOUSE RMS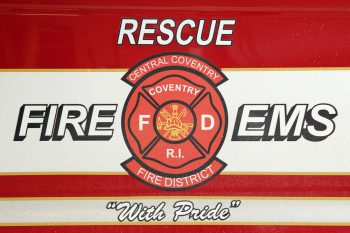 Symposium is happy to announce that our Horizon EME CAD and Sinirji Mobile Data and alerting solutions are now live with the Coventry Rhode Island Fire Department.
Large Area, Four Separate Fire Districts, One Unified Dispatch
Coventry is the largest town in land area in Rhode Island with a total area of 62.3 square miles. A town since 1741, modern Coventry has a population of just under 34,000 full-time residents, and boasts many old homes and industrial buildings. Today Coventry is protected by four separate fire districts – all now dispatched by the Symposium CAD, located at Central Coventry Fire District. Combined, the four districts respond to over 6,700 calls a year, as well as additional alarms from private facilities.
Customizability for Each Agency Equals Better Multi-Agency Dispatch
With high levels of customizability built in, Symposium's CAD is ideal for multi-agency and multi-jurisdictional dispatching. Each agency's specific data, functions, and workflow can be reflected – both currently and as requirements change. Similarly, each can have their own RMS and other systems directly integrated. As a consequence the Symposium system enables the highest levels of resource sharing and mutual aid, which – in a situation of collaborative response over large areas – is a particularly useful advantage.
Sinirji Incident Alerting and Mobile Data Empower Combination and Volunteer Departments
Because all four fire districts are combination departments, the Sinirji mobile data and alerting system is a powerful force multiplier. Responding personnel see the location and continuously updated details of the incident. They also see the location of other active responders, and can set their status, add notes, and can also query premise, pre-fire, and other info directly from the FIREHOUSE RMS – all securely on their mobile devices.
Another Project Brought Live On Time and On Budget
We are proud that with Coventry we have yet again continued our tradition of bringing our clients live on time and budget, and look forward to helping the fire districts respond faster, safer and more effectively for many years to come.
For more info on how we can help your department respond faster safer and more effectively, please feel free contact us at info@symposium911.com.