Client Highlights:
9k+ population, 18k+ in Summer

Integration with FIREHOUSE RMS
Sinirji Mobile Incident Alerting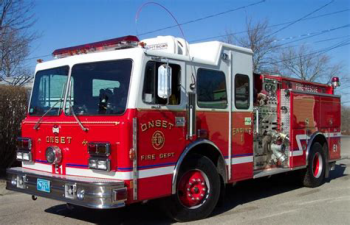 It's our pleasure to announce that our CAD and mobile data systems are now serving the Onset Fire district. Located in the greater town of Wareham, Massachusetts, Onset is a combination department with 60+ personnel operating out of two stations. With a doubling of population in the Summer months Onset FD is quite busy for their size, responding to approximately 2,000 calls per year.
The high relative call volume combined with the reliance on on-call personnel contributed to Onset choosing to upgrade their dispatch and response operations with Symposium. Now, with our integrated CAD and Sinirji mobile alerting, volunteer personnel get alerts on their phones for each incident, and have access to real time, continuously-updated info on all aspects of the situation.
When a call comes in to Onset dispatch and is accepted in the CAD, on-call Onset firefighters are alerted with the call type, location, notes, and other particulars, directly and securely on their mobile devices via Sinirji incident alerting.
Personnel can mark themselves as responding in Sinirji, and this is fed back directly to the CAD at dispatch. The map-based location of responding personnel is displayed both to other responders and in the CAD, and is updated in real time. And as the call info is updated, personnel see the changes in real time as well. They in turn can add notes, update their response status, and access info from the FIREHOUSE RMS. They can even see the location, status, and flow rates of hydrants, directly in Sinirji.
Just as importantly for combination departments Sinirji users can mark themselves available or unavailable, either dynamically or based on their schedule. This way only on-call personnel receive alerts, while making it so that command staff can see what their available manning levels are at all times.
"Sinirji is revolutionizing response for volunteer and combination departments", says Symposium President Robert Day. "Instead of getting a short initial blast of info as with most incident alerting systems, Sinirji gives them continuous, two-way, full-spectrum info on the evolving situation. They arrive at scene fully prepared for what they're getting into, with the info they need to deliver the most effective emergency response."
We're proud to be helping protect the people of Onset and the surrounding area, and look forward to continuing to provide the department with the very best in technology, service, and support for many years to come.
For more info on how we can help your department respond faster safer and more effectively, please feel free contact us at info@symposium911.com.