Project Highlights:
90 departments, 450+ Apparatus

Complex Mutual Aid Requirements
Real-time Integration with FIREHOUSE® RMS and EM Mobile Data
On Time and On Budget
Ice Storm Details:
Knocked out power to over a million homes and businesses in the Northeast
State of Emergency declared in NH and MA – "Worse than the Ice Storm of 1998"
New system handled ten times regular call volume over a sustained two-day period
"An Impressive Performance by the CAD – a true test" –Client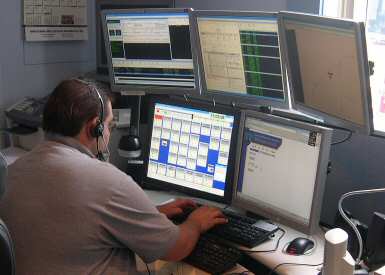 Providing Fire and EMS services to 90 departments spread across three states, the Southwestern New Hampshire District Fire Mutual Aid (SWNHFMA) is one of the largest and most complex public safety operations of its kind. Now for the very first time its firefighters and dispatchers are backed by a fully integrated emergency response system, delivered and implemented in just six months by Symposium Technologies.
From the dispatch center in Keene New Hampshire, SWNHFMA dispatches over 450 pieces of apparatus. Running the gamut from full-time to composite to all-volunteer, each of the 90 member departments are interconnected by detailed mutual aid agreements that outline specific procedures for response and coverage across the entire district.
Difficulty Finding a System up to the Job
Up until recently dispatchers had been forced to handle this highly complex process manually, as no computer system had the flexibility and sophistication required to dispatch the detailed Standard Operating Procedures (SOPs) that form the backbone of the district's response process.
"This was a huge challenge for us", said SWNHFMA Director Phil Tirrell, "because of the size of the territory we cover, the number of departments, and the complex mutual aid agreements involved, we felt we could benefit from a computer aided dispatch system. But until we were introduced to Symposium, we simply couldn't find a system that had what it took to get the job done".
Enter Symposium – The Flexibility they Needed, and Much, Much More
Symposium's EME CAD was built from the ground up to handle the needs of multiple agencies sharing one dispatch, including full-time, composite and volunteer departments. While this flexibility was crucial to the Southwest New Hampshire project, there was much more. In addition to integrating the district's SOP's, each department's call types, response rules, all the mapping for the tri-state area, and a host of other client-specific data, the new system also features full two-way integration with 76 separate FIREHOUSE® RMS installations and full in-vehicle mobile data, featuring mapping, GPS, real-time two-way access to FIREHOUSE®.
According to Tirrell, "Before we got Symposium there was no way to leverage the data everyone had collected in FIREHOUSE®. Now, all the premise, pre-fire and other info the inspectors have gathered across the district is available in the CAD. This makes a huge difference to our response, and the dispatchers and firefighters love it."
The Best System AND the Best Installation
Tying all this together to deliver improved speed, safety and effectiveness is the end result, but it's not by any stretch the entire story – the district was equally impressed by the quick and easy implementation. According to Dispatch Supervisor Bonnie Johnson, "We were entirely on paper, because no other company had been able to automate our workflows, let alone tie in the RMS. Symposium has provided an amazing solution, but we're equally delighted with the installation process – everything from customization to training to going live in less than six months, with a transformative effect on our operations. We couldn't be more pleased."
Another Successful Solution, Another Satisfied Client
SWNHFMA personnel are delighted with the new capabilities.  Phil Tirrell sums it up: "Symposium implemented our system live quickly, with amazing results. We couldn't be happier ."
For its part, Symposium couldn't be more pleased to have yet another happy and satisfied client on board, and to have brought such a large and complicated dispatch center live in such a short period. As Robert Day of Symposium puts it: "Southwest New Hampshire combines in one package just about all the dispatch challenges that are facing public safety agencies – a large diverse area, many departments, high call volume, complex response rules, and multiple integrations. Not to mention they were transitioning from a paper-based dispatch to a fully automated state-of-the-art system. These are all challenges our solutions were designed to meet, and to do so in such a large and complex situation so quickly is truly rewarding."
For more information, or for those interested in seeing the system in action, please contact Symposium by emailing us at info@symposiumtechnologies.com.