Client Highlights:
2 Department dispatch, 110k Pop., 24k+ Calls per Year
CAD, Mobile and Incident Alerting
Integration with Local RMS Systems, NG911 Compliant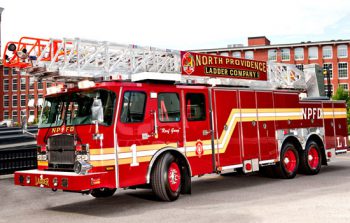 Symposium is pleased to announce that our Horizon EME CAD and Sinirji Incident Alerting and Mobile Data solutions are now serving Pawtucket Fire Department, thanks to an agreement between Pawtucket and long-time Symposium client North Providence Fire.
Combined, the North Providence and Pawtucket Fire Departments serve a population of just over 110,000 from 8 stations, with a current call volume of roughly 24,000 calls per year in a dense urban environment.  North Providence itself has been rated as a Class 1 Fire Department by ISO – one of only 63 in the entire US, of 6 in New England, and the only one with such a designation in Rhode Island itself. The merged centralized fire dispatch is now located at North Providence's new and highly modern public safety complex.
Fully-Configurable Map-Based CAD
One feature of the Symposium CAD that makes it especially useful for multi-departmental dispatch is the ability to have a different setup for each department on the system. Response rules, zones, actions, benchmarks, statuses, incident types, manning rules, integrations, and much more are all fully configurable, by agency and/or jurisdiction.  Another powerful feature is the interactive mapping, which allows for the set up of dynamic icons and geomarkers.  This includes things like the location of active burn permits, road closures, pull boxes, and any other feature any department needs to see.  Info on any marker can be queried and displayed directly from the map, and can be set to auto-delete after a specified time period or date. Fire hydrant locations, flow rate and other properties can also be displayed, with color coding indicating their current status (i.e., open or closed).
Mobile Data from Any Device, In Station, In Truck, In Pocket
As well, North Providence and Pawtucket personnel have access to two-way real time secure in-field mobile data via Symposium's Sinirji Mobile Data, including incident monitors in the stations, MDT's in the trucks, and directly on responders' mobile devices. This means they're alerted to important call data from the moment it comes into dispatch, and can update their status and location in real time, add incident notes, access pre-fire, contact and other info, and much more besides.
Both systems are fully integrated with RMS and are NG911 compliant, delivering seamless data sharing across system and platforms and pre-positioning departments to take full advantage of new capabilities as they become available while ensuring compliance with evolving 911 regulations.
The result is a feature-forward and technologically advanced dispatch, alerting, response and monitoring solution that delivers the capabilities required to put the right info in the right hands, at the right time – and thereby helping ensure the fastest, safest and most effective emergency response.
Lower Costs, Greater Capabilities, Continued Expansion
As becomes the case for many Symposium-enabled clients, the centralized North Providence dispatch is proving a powerful force multiplier to agencies in the surrounding area, both operationally and otherwise.  Preliminary estimates are that the consolidated dispatch will save over $250k annually, all while helping deliver faster, safer and more effective response.  
And, with Pawtucket now live on the system, talks are underway with three other communities to extend the benefits even further.  For our part, Symposium will continue to provide everything required to keep the operation at the forefront of technology, capability and efficiency, via regular feature upgrades provided as part of the standard Symposium service contract.   
We at Symposium are very proud to be working with the North Providence and Pawtucket departments, and look forward to supporting their mission for many years to come.
For more info on how we can help your department respond faster safer and more effectively, please feel free contact us at info@symposium911.com.