Client Highlights:
7 More Communities, Additional 65k Population (200k+ total)
Centralized Dispatch, Distributed Mobile Data, and Incident Alerting/Monitoring
Integration with Local RMS and e911 Systems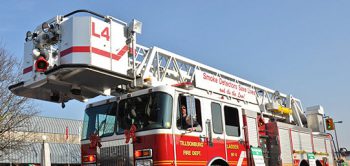 Fire departments that use Symposium tend to grow their operations over time. Installations that start out serving one or two local agencies often expand to cover other nearby Fire and EMS services. More than a few end up transitioning to regional dispatching hubs, serving dozens of communities near and far.
Tillsonburg Fire Helps Departments Across Ontario Respond Faster, Safer, and More Effectively
One such Symposium client is Tillsonburg Fire and Rescue, who've consistently expanded their operations over the last several years. Their initial service area covered other nearby departments in Elgin and Oxford Counties in Southwest Ontario. But based on the initiative, vision and professionalism of TFR's officers and staff and backed up by first-rate technology from Symposium, departments from much further afield began to take notice.
Walkerton and a half dozen towns in Bruce County sixty miles to the north came on board to great success. Now Tillsonburg has extended its services yet again – this time to the towns of Dufferin County. Centered on the county seat of Orangeville about 100 miles from Tillsonburg, the new service area covers seven communities and is home to roughly 65,000 people. This brings Tillsonburg's coverage area up to 13 departments, serving a population of just over 200,000 via 33 fire stations distributed across a huge swath of Ontario.
Acting Deputy Chief Vanessa Devolin (who has a background in Fire communications), is pleased to see further expansion:
"We're delivering superior dispatch capability to other departments while helping them make better use of resources. It's a great satisfaction to be able to bring the same benefits we've developed locally out to other communities."
Centralized Fire-Centric Dispatch that Supports Local Needs and Realities
Another powerful selling point is Tillsonburg's professional and highly trained team of 5 full-time and 8 part-time dispatchers, something Deputy Devolin was keen to discuss:
"The expertise developed in-house by Tillsonburg has been a big enabling factor. Our growth is made possible in no small part by our staff. Their professionalism enables us to handle demanding call volumes to the highest standards, 24/7."
Another factor is the ability to accommodate and support the dispatch procedures of all these different departments:
"All of these departments near and far have different responses, based on the local area and needs. One of our key advantages is that our training and systems are designed to reflect the local response needs. This way they get the best of both worlds – centralized 24-hour professional service, but with customized response."
All of these capabilities are enabled and supported by Symposium's powerful and flexible technology:
"The system scales to any call volume or number of departments, and can be customized to meet any response procedures. We can grow operations organically, as needed. Every time we've expanded Symposium has been right there with us, facilitating our success."
Geo-Customization, and Integration with Local e911 and RMS
Another big selling point is integration. According to Deputy Devolin, the CAD system's ability to incorporate each client's existing data and systems is a big plus:
"Symposium integrates each of the regional 911 feeds, so we receive all the emergency calls from cell and landline locally, and they show pinpointed on the CAD map. This is on top of all the local premise and hydrant data that gets integrated. If the roads have local names that the callers use, you can search by that and it comes up."
The Deputy also pointed out that integration also extends to being able to work with each department's RMS – something that delivers important capabilities both during and after the response:
"Every client has their own RMS. Symposium integrates with any number of RMS vendors, so we can share important pre-fire data for response, and then send the call info back to the local RMS once the incident's finished to facilitate OFM reporting at the department level."
Mobile Data Made Available for Local Departments In-Station, In-Truck and In-Pocket
Last but far from least is the issue of mobile data. As with CAD, smaller departments haven't always been able to make room in their budgets for their own mobile data solution, but with Symposium they get an affordable option with features specifically designed for on-call responders. Deputy Devolin spoke to the impact this has had:
"Many of these departments are combination and volunteer departments. They can opt for Symposium's Sinirji incident monitoring that gives responders a 'mini-cad' at the fire hall, in the vehicles, and even on their personal mobile devices. On-call staff get alerts and secure real-time map-based updates on the calls as they come into the CAD, as well as access to RMS, pre-fire, hydrant and other info. We in turn can monitor the response directly at dispatch and deliver real-time updates to the responders as the info comes in and the situation changes – it's a real game changer."
Fire Department-Specific, Fire Department-Focused
Symposium President Robert Day gives his take on how the company is able to help departments like Tillsonburg grow their operations:
"We see time and again that Fire dispatch is its own animal. Departments that might not have the resources to have their own dispatch still need access to fire-centric dispatch support, and very few vendors provide this. We – and by extension our clients like Tillsonburg – do. They have the vision and the expertise, and we give them the tools to make the most of it."
He went on to sum it up:
"Everything combined means that our clients now have unprecedented abilities to leverage their in-house expertise to deliver high-end dispatch services to departments wherever they're needed. Everybody wins – the dispatch provider, the other departments and, ultimately, the communities and citizens they protect."
For more info on how we can help your department respond faster safer and more effectively, please feel free contact us at info@symposium911.com.