Client Highlights:
41k Population, 8.5k+ Calls per Year
CAD, Mobile and Incident Alerting
Integration with FIREHOUSE RMS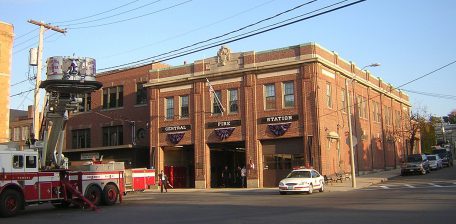 Symposium is proud to announce that its Horizon EME CAD and Sinirji alerting and incident monitoring systems have been implemented with the Chelsea
Massachusetts Fire Department.
Located just across the Mystic River from Boston on a small peninsula in Boston Harbor, Chelsea is the smallest city by area in Massachusetts and – with a population over of just 41,000 – one of the densest as well. Boasting an extensive industrial history, Chelsea has long been a destination for immigrants from all over the world. Today, the City is a leader in innovative municipal government centered around improving and maintaining the quality of life for its citizens.
The Chelsea Fire Department is a full-time department with a force of 65 Firefighters and 30 officers, operating from three stations and responding to over 8,500 calls for service per year. As a busy department operating in a dense urban environment, up-to-date situational awareness is crucial.
With CAD and mobile live and in service for some time now, Chelsea's had the opportunity and experience to really evaluate our solutions. Chief Leonard Albanese, a thirty five-year veteran of the fire service, was kind enough to give us his impressions of the systems and to detail the impacts they've had on Chelsea's operations.
Priority Number One – Faster Response
Technology is a tool, and what matters is whether it does the job when the rubber hits the road. In the case of emergency response dispatch, this is literal – getting the trucks there faster, safer, and more effectively is job one. Chief Albanese put that first and foremost in Chelsea's evaluation:
"It's all about getting the resources there on time. Chelsea is a very tight and congested city, so preventing fire spread and getting EMS on scene ASAP are our big day-to-day concerns. The biggest need for this program was to reduce call handling and dispatch times and get resources on scene, faster."
And, according to the Chief, Symposium has done the job:
"With the new system, we've cut our call handling times by more than half. Previous average call entry was about a minute and a half – this is now down to under 30 seconds. Most times responders are getting dispatched off the call entry, and the announcement is just a confirmation. Because they have Sinirji Station Monitors in the living quarters, in the trucks and on their phones, they get the pre-alert and are moving to the apparatus before the actual dispatch. With the MDT's we have firefighters and officers seeing these calls come in in real time before the dispatch on many occasions, and heading straight to scene."
As we were speaking a new call came in, and the Chief paused the conversation to monitor it on his device:
"There it is. The call comes in, then boom – it's on all station monitors and MDT's. And there they go."
The Search for a Fire-Service Specific CAD
One of the issues our clients regularly find is that vendors concentrating on the larger police market often don't have the expertise needed to meet the very different needs of Fire and EMS dispatch. This was something that Chelsea ran into, and placed front and center in their selection process. As Chief Albanese put it:
"Everyone tries to get a one stop fix for police and fire, and it wasn't possible with CAD. We needed something designed for the fire service, and we simply weren't able to find a CAD that met the needs of both police and fire. Symposium was the best suited for our needs from those specifically designed for fire services."
The Chief went on to say that the operational realities of running separate CAD systems for police and fire have worked out much better than some expected:
"Because our fire and police communications work out of a joint operations center there were initial concerns that two dispatch systems would create issues with efficiency and interoperability, but experience has shown that's not the case. Now, a year and a half later, many of those who said we couldn't run two CADs concurrently in a joint operations center with police are now seeing it works seamlessly."
Customization and Support
Another issue was the ability to configure the CAD to meet the department's specific needs and operational realities, and Symposium's ability to accommodate this was a big plus. The Chief put it this way:
"With such a dense and complex urban response area, we needed to be able to customize our responses based on the location of each call, granular to each area and even down to the building level. The Symposium system allows us to do all that. The flexibility's terrific."
This even extends to on-the-fly configuration to meet changing circumstances and emerging challenges. With Symposium, Chelsea's able to do this quickly and easily:
"This past weekend because of storms, we needed an extra pumper and a deputy chief. It was simple and easy to have them added, dropped into the stations, and activated seamlessly in our response zones."
The best technology in the world is useless if it doesn't work for you, so yet another priority was the level of support. According to Chief Albanese, Chelsea's experience on this front has been positive and straightforward:
"Technology-wise, we very seldom need support – everything's very reliable and works great. But, when we do need support, there's no problem – our support is excellent. We're very demanding of our vendors, but if they do a good job, I've got no problem telling it like it is."
Better Info, Better Response
With these new capabilities, Chelsea Fire Department has reduced response times while delivering safer and more effective emergency response. But it's best if we give Chief Albanese the last word:
"I love it. I like everything about it. It's changed the way we get on scene."
For more info on how we can help your department respond faster, safer and more effectively, please feel free contact us at info@symposium911.com.